After an amazing week in Austin, I am writing to share some thoughts on Texas history and ATX tourism to help you plan for a trip to Central Texas. Two words: Go there. In August. It's hot. Be sweaty.
So right off - historians and Texans, my apologies. This post reflects the impressions and notes of a Boston girl who knows not of what she speaks. My hope is to start the imaginations for others like me who know nothing about the Lone Star state. Don't get mad.
HISTORICAL RUMINATIONS
Day 4 was a day trip from Austin to San Antonio. Easy 90 minute drive on Interstate 35. Destination: The Alamo.
Guess how many hours of my 27 years (!) of formal school-based education in the NE part of the US of A was spent learning about The Alamo, or any Texas history? Yup, that's right: Zero. Nil. Nada. Proof positive that our world is the world immediately in front of our face. Perspective. Earlier this summer, I was in Detroit and an older woman was telling me a story about her community that began, "Remember there was that thing, that crash in New York..." Took me a few minutes to realize what she was talking about. I said, "You mean, 9/11? The Twin Towers?" Her reply, "Yea, that." Yup. That. The fact that she couldn't even name the event seemed odd to me until I realized that I don't know a single story about anything that has ever happened in Detroit. I didn't even know the story of The Alamo.
So what is the story of The Alamo? Here's my summary: Texas was part of Mexico. Some people who lived in Texas wanted it to be an independent state. The Mexican President, Santa Anna, got wind of this resistance and decided it would be a good idea to retrieve a cannon that the Mexican army had given to people in Texas so they could attack Native Americans. Fearing they might use the cannon against the Mexican army, Santa Anna told the Texans to return the cannon. They said, "Come and take it." Hmmm..... Santa Anna decided it wasn't worth the battle, so he just left the cannon there. Texans were super psyched that they had intimidated the Mexican army. This response lives on today as symbol of Texas bravado and independence:
And later that flag turned into this flag for gun rights advocates.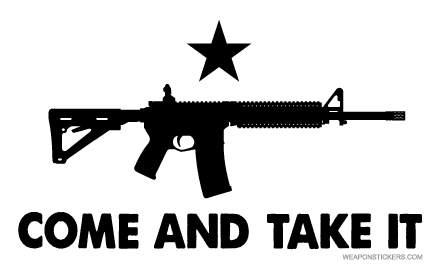 In 2015, when gun rights expanded in Texas to allow open carry on college campuses, a group of students at UT who were organizing to resist this change took up this banner. Which I never really understood until I went to The Alamo.
Clever, right? Hundreds of people - primarily women - wore these shirts and carried huge dildos around campus to protest the open carry policy. Got a lot of people mad. As in death threats to the women who organized the campaign. Now that I know a tiny bit about Texas history, I am starting to understand how fierce and brave this campaign actually was. Remember The Alamo. Don't mess with Texas.
Back to our story: So the cannon confrontation happened, and then Santa Anna decided to send troops to put down this rebellion of Texans. A big fight happened at The Alamo. The rebel groups were outnumbered, could never win, and fought until their death. The story says when the Mexican troops finally stormed The Alamo and the last shot was fired, the women and children who were in the compound were spared. Not super convinced about that part of the story. Worth noting that at the historical site today there is not a single mention of women at The Alamo beyond this. #patriarchy
So the battle of The Alamo was lost and it wasn't pretty. No prisoners, mass graves, burning stuff, a real smash-your-face-in-it kind of defeat. The outrage and fury that grew from that defeat motivated others to really bring it against the Mexican army and ultimately the Texas independence folks won out. For the next 9 years, Texas was its own Republic. Then it joined the US for 16 years. Then it seceded from the US to form the Confederacy. Then came back to the USA. In total, 6 flags flew over this region: Spain, France, Mexico, Texas, Confederacy, USA. The amusement park chain Six Flags started in Texas, and the park's name come from this history. Bet you didn't know that.
Finally factoid: Davy Crockett (as in the beaver hat) and James Bowie (as in the knife) were killed at The Alamo. Interesting to note that neither of these "pioneers" were from Texas, they basically showed up for this fight. Kind of like the Lincoln Brigades in the Spanish Civil War, folks showed up to the Texas battle for what it represented - end of Mexican rule and expansion of the USA.
All in all, a very interesting visit that also felt a little bit brain-washy. Like a lot of historical tourism. I grew up walking Boston's Freedom Trail. Really? Whose freedom were they fighting for when they dumped tea into the Harbor? #BLM And then there is the whole flag thing: regional pride or creepy tools to fuel mob mentality? Come and Take It. Don't Tread of Me. The rebel Dixie flag of the Confederacy. Same? Different? A white man's power grab. If these flags were clients, my response would be, "It sounds like you are feeling scared/vulnerable/powerless." It's all fun and games until someone loses an eye.
TOURIST STUFF: REALLY FUN THINGS TO DO IN AUSTIN WHEN YOU GO
Swim in Barton's Spring Pool
Eat at Torchy's Tacos
Go on the UT Tower Tour
Buy cool sneakers at Texas Shoe Exchange
Bike all over Austin. Sweat a lot.
Drink a Honeynut Latte at Thunderbird Coffee
Watch a movie at Drafthouse Alamo and practice eating silently in the dark (good luck!)
Drink and cheer on your soccer team at the Smallest Bar in Texas (5th Street)
Sit by the river and admire the bats.
Paddleboard all over Lady Bird Lake.
Talk to a bunch of Texans about The Alamo and what it means to them.
Order queso wherever you go.
Drive to Driftwood, TX, admire the Hills, and eat a pound of meat at Salt n Lick BBQ.